There is some amazing Street Art or Graffiti, as some people refer to it, along the Marina under cliff walk and while I was there over the August Bank Holiday weekend (2021) I took several photographs of this  fine art work. 

 The Brighton Marina is a convenient place to park one's car, before  beginning a walk along the Brighton Seafront. Parking is free, a rarity in Brighton, with a maximum stay of about 4 hours or so. Although it wouldn't surprise me if drivers stay there for longer. It's handy too, when going to the Brighton Marina cinema or Cineworld, as the car park is right above the cinema.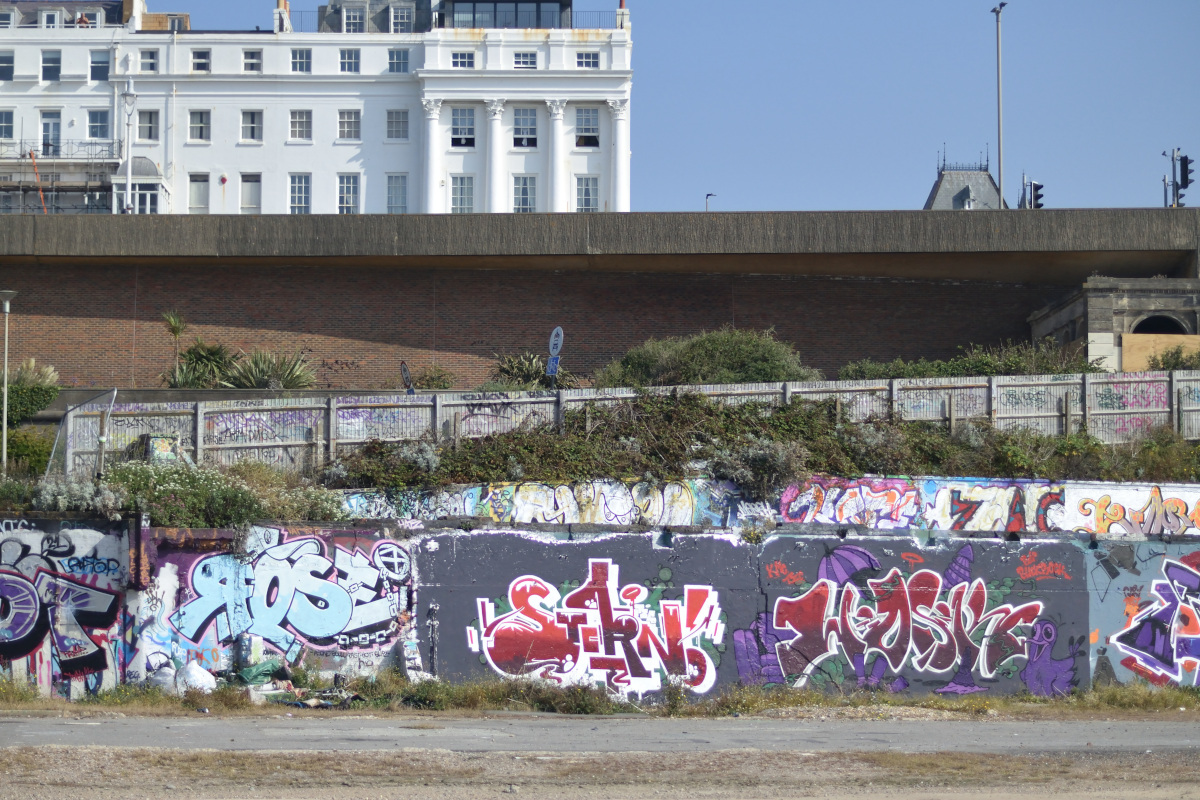 The Marina Under Cliff Walk has always appeared to be a no-mans land, between the Marina and the Brighton Pier. Recently,   however,  some development plans have been displayed along the route indicating that the area will soon be redeveloped, probably  with shops and bars. Although I not entirely sure; I'll have to take a closer look at the redevelopment plans the next time I am down that way.
 The area has looked rundown for quite a while, which is reflected in the sometimes gritty and grimy artwork. Even the colours choosen for these two particular pieces of art (above) look subdued, almost in recognition of the area's fate. 
 The villas that can be seen above the Graffiti are quite luxurious, which could be one reason why the underpass is being redeveloped. I can only speculate that redeveloping the area will add enormous value to the already expensive villas. 

A lot of time and effort, and probably thought, seems to have been put into the choice of font used in street art. Although, invariably most of the artists seem to favour a comic book style one. I am not quite sure why though. Maybe, because of its catchy nature, a bit like the front page of a comic! Sometimes, the choice of vibrant colours, always seem to scream out at you, like the Graffiti shown in the image, above.
 This item of work "Wait till I catch that virus,  shown above, was the first item that caught my eye, about a year ago. I think it was drawn at the start of the COVID-19 pandemic. I wish I had taken a picture of it sooner, as it is now rain damaged, due to it being painted on one of the wooden boards that partly fence-off the underpass. Now, that I have been inspired, by Graffiti, I think I will make street art one of the themes of my street photography hobby.