The Black Rock Restoration project has set itself  the task of finalising the development of Brighton Marina Black Rock site. Led by the Brighton & Hove City Council, with funding from the Coast to Capital Local Enterprise Partnership, the aim is to redevelop this part of the Brighton Marina seafront in two phases. The site has been left derelict for years and has been a haven for Graffiti artists and the like. Some of the Graffiti that I've captured from this site over the last few weeks can be seen in this and this blog post.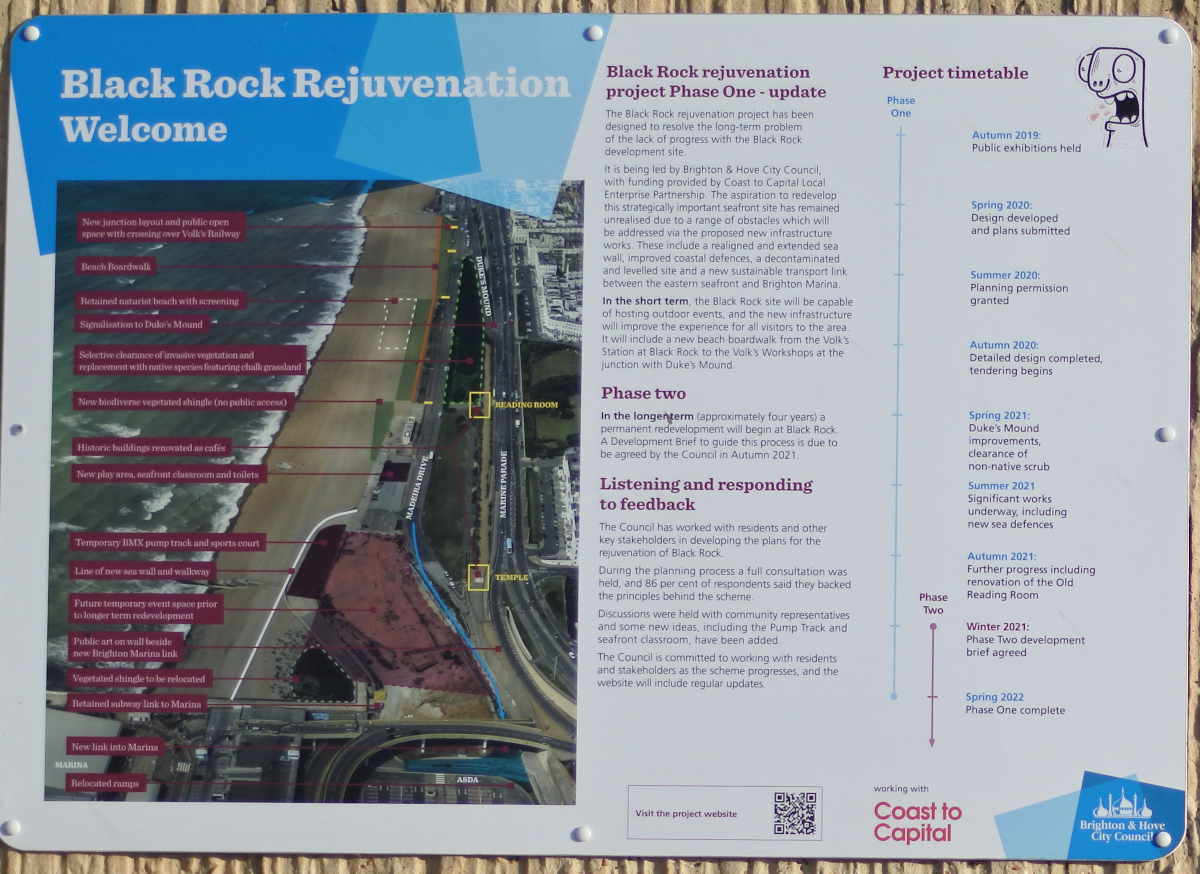 Dotted around the site are a few placards providing narrative on the proposed development, like this one seen in the photo above ...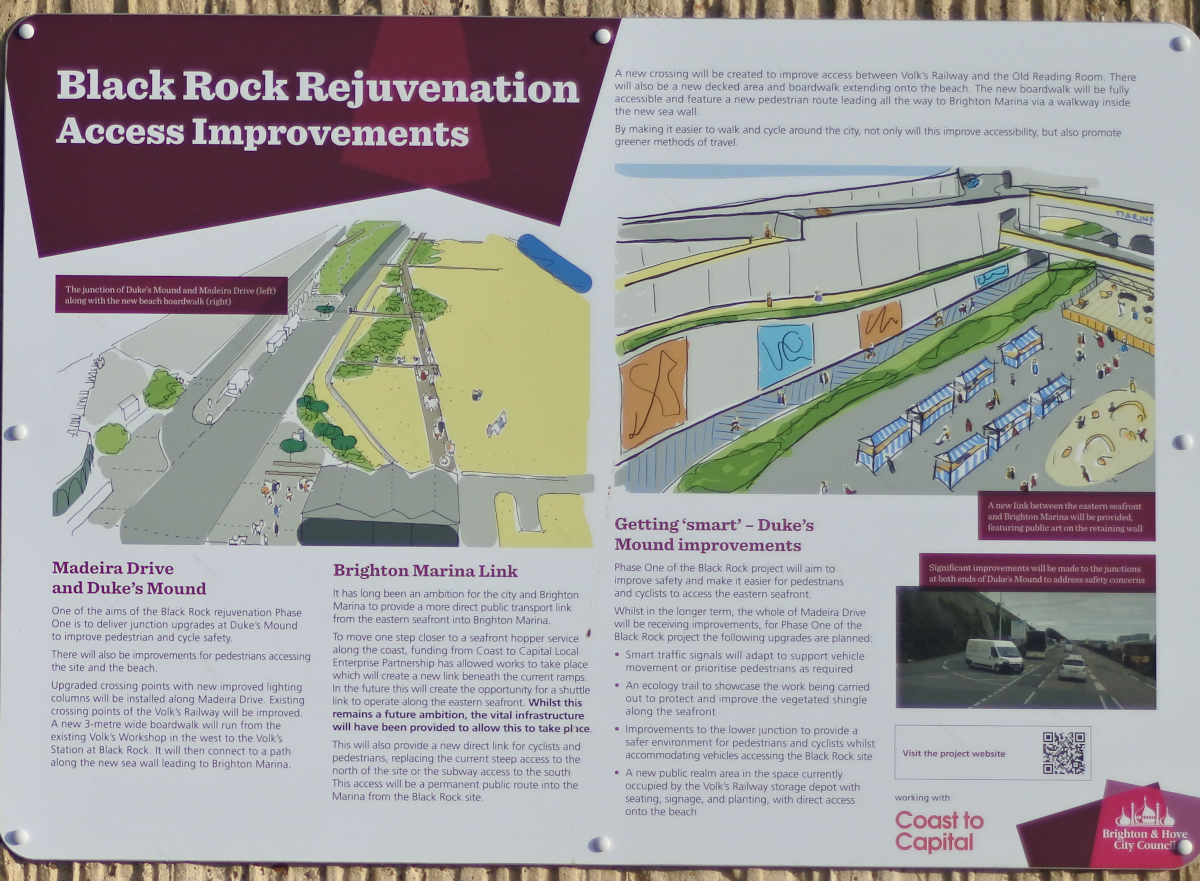 ... and this one seen here, too. It provides an insight to what the area will look like, when the proposed redevelopment is finished. It should be quite nice from what can be garnered from the layout drawings in the photo, above.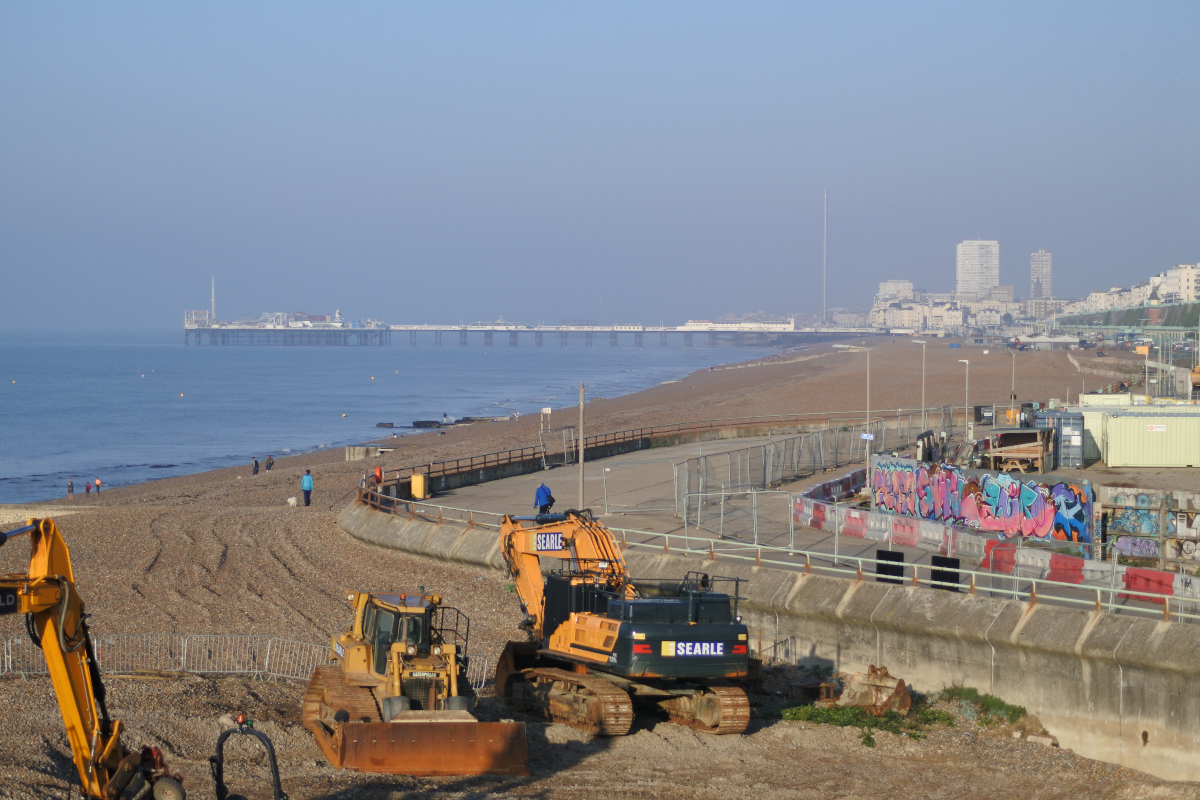 Over the last couple of months a few diggers and tractors have be seen doing some work on the area. Not Bob the Builder level of intensity, but much more work is being carried out, than before. By now, Autumn 2021, according to the placard mentioned previously, significant renovation should have occurred. Maybe, the project is behind schedule, because of the pandemic, or a lack of haulage drivers, or a lack of construction workers.  Who knows, there's so much popping-off at the moment its hard to keep track.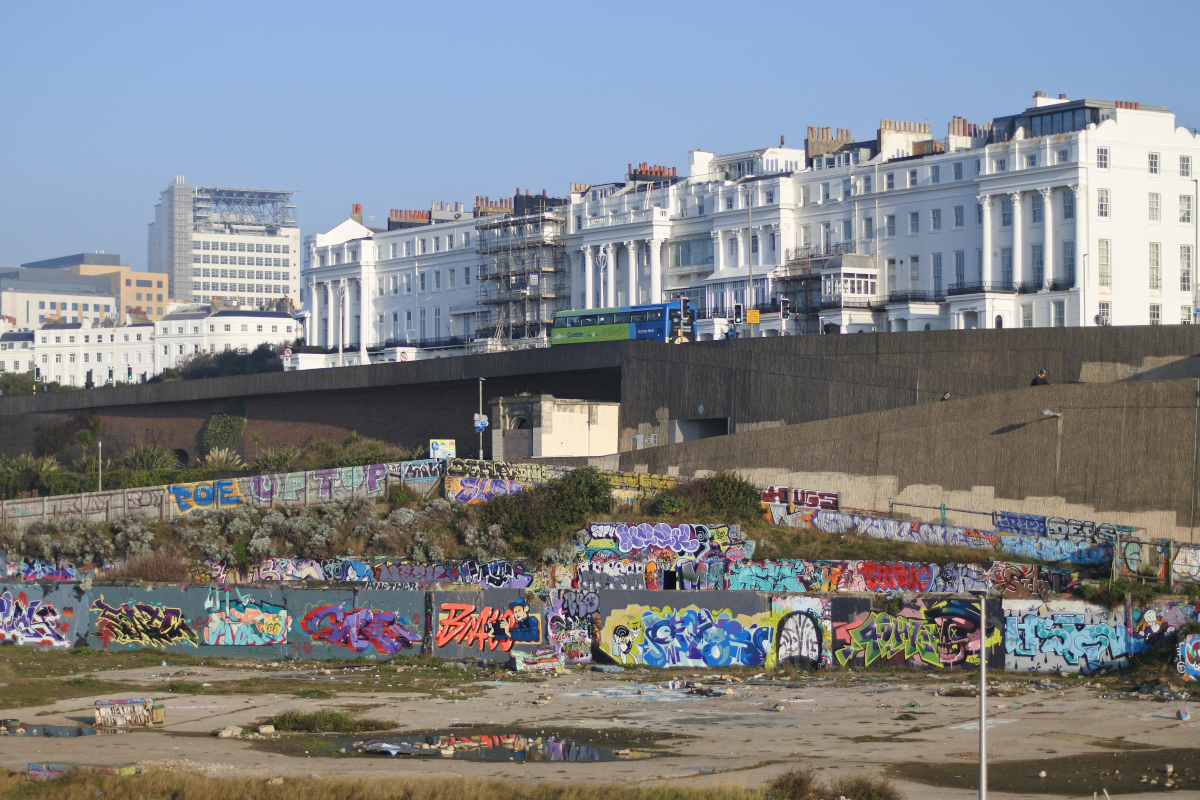 The area  below the houses looks grim, doesn't it. Not sure why it took so long to consider and execute a redevelopment plan. Although, I thought the plan  would have  littered the area  with posh shops and glistering nightclubs. I suppose the local residence's would have been dead set against that and complained about more noise and an increased number of drunken late night revellers pissing in their doorways!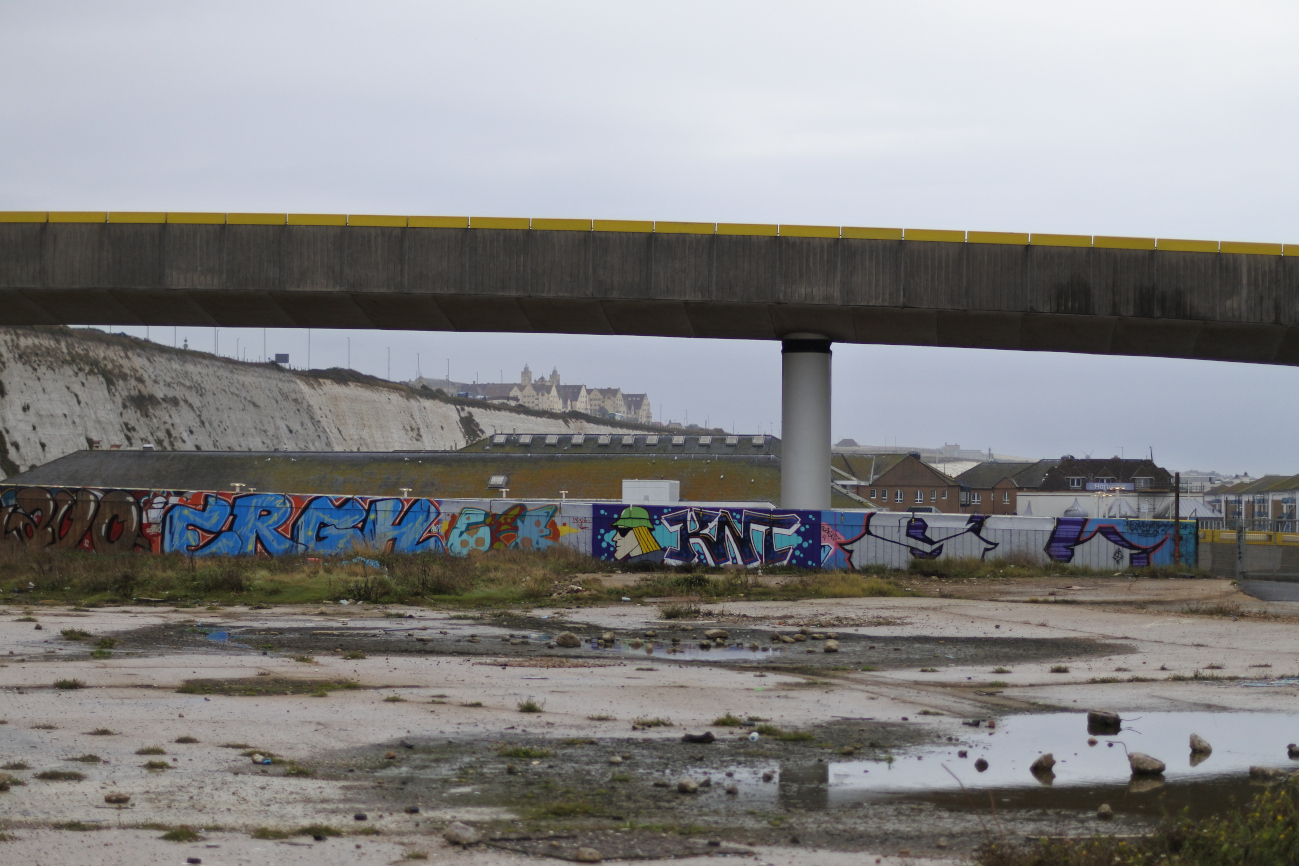 I suppose if the area wasn't being redeveloped it could have been used as a location for filming apocalypse or zombie movies.  
Although it doesn't look like it, the land area of Black Rock is massive. Also, being next to the Brighton Marina with its shops and housing blocks, I wonder whether some office buildings will be located along the redeveloped seafront? Once developed it would be a nice place to work. Similar to the redevelopment projects at the former docks in Liverpool.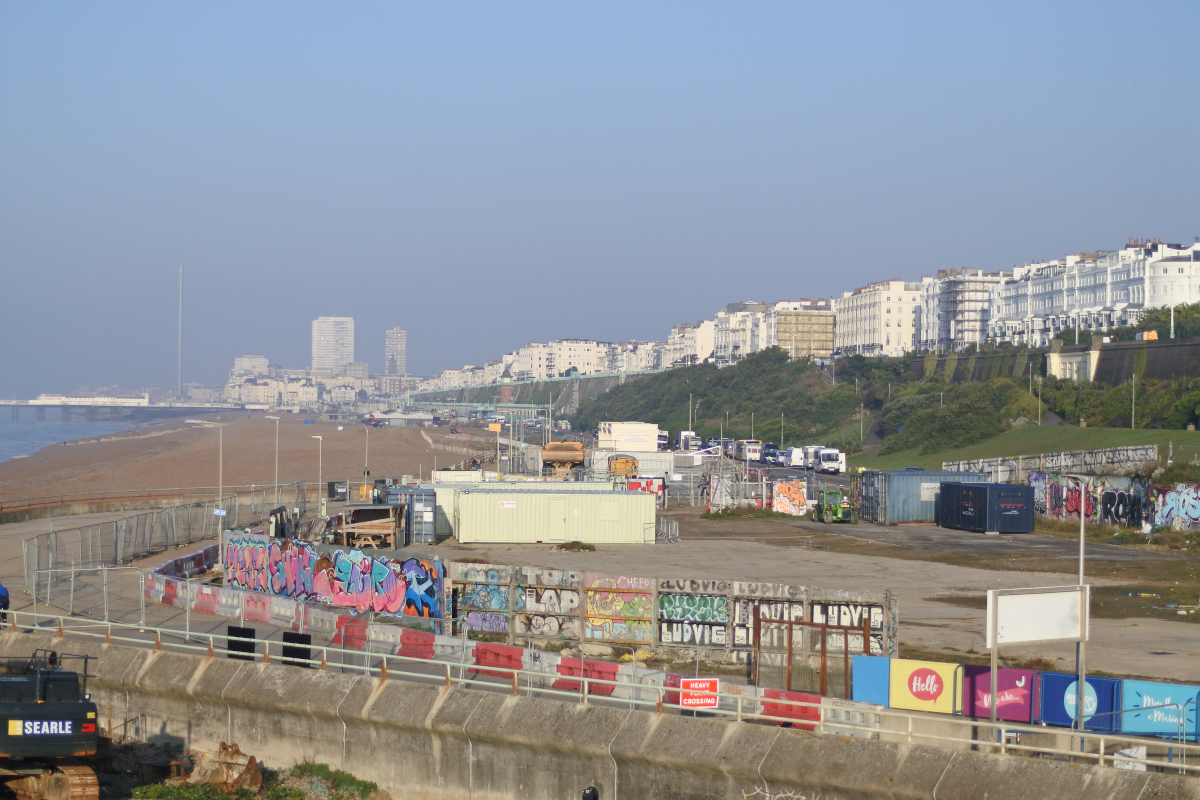 Well, I hope it works out and the newly developed area, once complete, looks pristine and smart. I'll be back, probably next summer, to make a small now and then comparison blog.